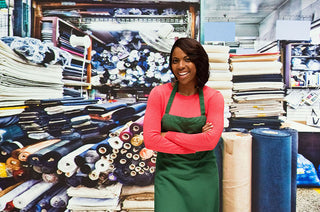 Employment
Retail Opportunities
Fabricland's Sales Associates provide the highest level of service to our customers at our many retail locations. Do you have a passion for customer service, a positive attitude and an enthusiasm for sewing and fabrics, crafts and home decor? Fabricland offers on-the-job training and a positive work environment. Please use our online Store Locator to view all of our locations.
You can inquire about part-time and full-time employment opportunities directly with store management or visit a store and apply in person.
Fabricland is pleased to accommodate individual needs in accordance with the Accessibility for Ontarians with Disabilities Act, 2005 (AODA), within our recruitment process. If you require accommodation at any time throughout the recruitment process, please advise the hiring manager.
Store Manager
You have good management skills and a proven track record in employee/employer relations. Must be highly organized and have the ability to build a strong team. Supervisory and delegation skills mandatory.
Assistant Manager
You have developed above average customer service skills, possess the ability to delegate and supervise co-workers, and wish to advance in a retail environment.
Sales Associate
Must possess customer service skills, knowledge of fabrics and sewing. We provide full training. Apply in person with résumé to the Store Manager or Assistant Manager at the following location(s):

Kitchener
1352 Weber St E
T: 519-893-4728

Welland
34 Douglas Ave
T: 905-734-3836

St Catharines
525 Welland Ave
T: 905-685-6595

Oshawa
600 Grandview St S
T: 905-436-7589

Whitby
1801 Dundas St E
T:905-721-9152
Receiving Clerk
You are organized, can handle moderate to heavy lifting, and can multi-task. Training provided. Position entails shipping out products and receiving goods.
Casual Labour
Would you like temporary shifts that range from a few hours to a few days? The shift times & duties vary widely and are dependent on the needs of the store. Some duties may include stocking, taking inventory, filing, receiving, putting away fabric, setting up tables, making signs, displaying product, etc.